Vamos a Celebrar Puerto Rico Month!
Let's Celebrate Puerto Rico Month! Embracing Nuyorican history.
What it means to be Nuyorican every year in June

The name Nuyorican came from the union of "New York" and "Puerto Rican," and it refers to the members or culture of the Puerto Rican diaspora located in and around New York City, as well as their descendants. Initially, the term came about as an insult by Puerto Ricans to those residing in the mainland. It was meant to offend which, for a while at least, it did. But later they transformed the insult into a description of beauty and power. In actuality, being a Nuyorican was a way of survival on the mainland. It was an elected identity, a way of self-determination and empowerment. It was about a life lived and fought for in the cold burned out neighborhoods of Loisaida, and "El Barrio". 
The Puerto Rican Migration to New York 
The history of the Puerto Rican migration to New York City throughout the 20th century details that, while many moved to the country in smaller numbers earlier on, it wasn't until the 1950s when the "Great Migration" of Puerto Ricans came to the United States. They brought with them a vibrant and beautiful culture, and started one of the most important art movements in modern American history. They were migrants, since coming from Puerto Rico, they were already United States citizens. This caused a lot of strain and confusion on their identity when they were treated as outsiders by the nation to which they were citizens of as they arrived. Discrimination, language barriers, were just some of the set-backs workers and families faced on their job hunt. This era marked the first time a Hispanic group moved to New York City in great numbers. Traditionally, Nuyoricans would plant their flags in what became known as "Spanish Harlem" in East Harlem, and "Loisaida" in the East Village, a Nuyorican pronunciation of "Lower East Side." 
The National Puerto Rican Day Parade. 
Once a year, New York City's Fifth Avenue becomes a global stage featuring music, dance, celebrities and family entertainment. The National Puerto Rican Day Parade (NPRDP) is often considered the largest demonstration of cultural pride in the nation and its mission is to promote national awareness and appreciation of Puerto Rican culture and its contribution to the United States. 
How to Celebrate Nuyorican History all Month long? 
At Coqui the Chef, we are proud to have such deep roots into this colorful culture, dating back many generations. This is why our classes such as Coquito Cocktail And Dessert, Escape With Piña Colada And Tostones as well as our corporate option A Taste of Puerto Rico | Cooking Experience are all perfect ways to spend time with family, friends, and colleagues in honor of this flavorful celebration. 
To learn more about our founder's love for her Puerto Rican culture and hear all the fun stories she and her son have to share, tune into the More than Rice and Beans Podcast! Every episode is full of interesting and inspiring tales from the hosts and guests. 
Be sure to tag us on social media, sharing how YOU will be celebrating this year's Puerto Rico Month! We would love to see your experience, especially if you decide to spend some time with us at our classes!
#nuyorican #nationalpuertoricandayparade #nprdp #puertoricohistory #spanishharlem #losaida #pinacolada #coquito #puertoricomonth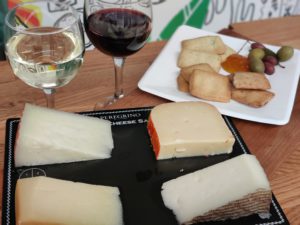 Our new favorite holiday is around the corner. Yes, the National Cheese Lovers Day is a thing, and we celebrate it every January 20. Yes, it's as fun as it sounds.
Read More