Let's Celebrate Spanish Paella Day!
Did you know March 27 is Paella Day?
We celebrate it every year by cooking paella with chicken, Spanish chorizo, and our favorite vegetables. We don't live in Spain but we cook authentic paella using the best Spanish products like saffron, pimenton (smoked paprika) and Calasparra rice.
Abuelita Carmita would be so proud of us!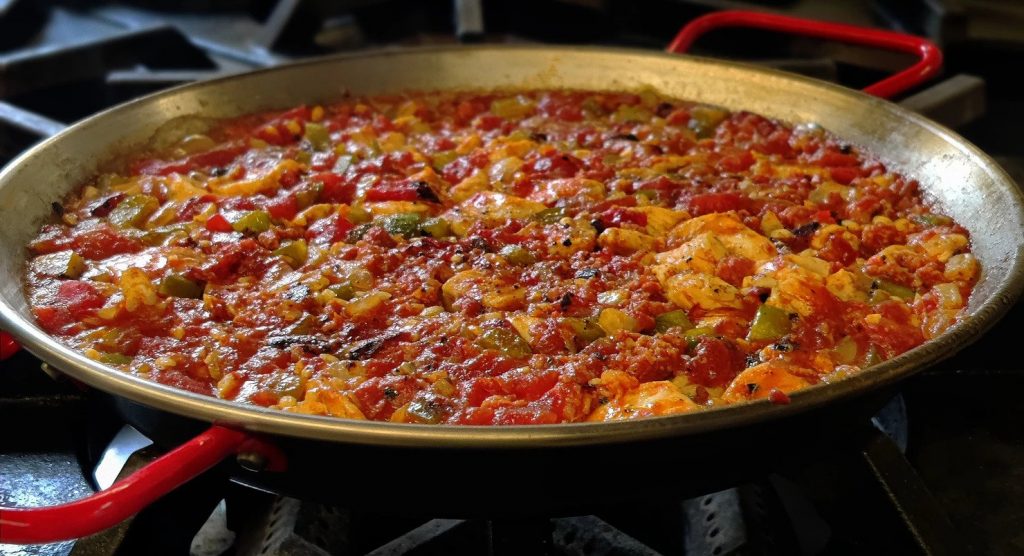 A Little Background
The traditional Spanish dish Paella originated from Spain's eastern coastal region. We can trace it back to the beautiful port city of Valencia which has been an important rice producer –the main ingredient of this dish– for about 800 years. Valencia is one of the biggest natural ports near the Mediterranean sea and it's known that the water there is the secret ingredient that makes Valencian Paella so unique.
The recipe had very humble beginnings parting from the rice. The farmers who needed to cook a substantial meal over an open fire, with the ingredients they had available that season, started popularizing Paella. They had to make the most out of their fresh produce in a creative way. Among them, one could have found anything from tomatoes, to snails for protein. Considered delicacies, rabbit, duck, or chicken were reserved for special occasions along with saffron and other precious spices. Naturally, Valencia's geographical location being so close to the water meant that seafood often found its way into the dish as well. As you can see, tradition and authentic ingredients are at the top of the priority list in order to achieve the right flavors. This is why at Coqui the Chef, we picked out the delicious Calasparra Rice and an array of authentic Spanish products to make our paella dishes. Depending on what class you select, we even have the option to ship them to your door! By signing up to receive our A Taste of Spain | Food Explorer Box you can enjoy the Mediterranean taste in the comfort of your home as well.
With age this dish continued to evolve and precious ingredients became more accessible. As Valencia Rice became available in other regions in Spain, Paella was now a staple across the country. Today, many restaurants import even the water from Valencia to make sure they get that authentic flavor. However, the combinations of ingredients from the different provinces have given way to more than 200 variations on the Paella! By taking our class, you could learn how to make our chicken with chorizo and vegetarian options. The possibilities are endless.
Fun Fact: This plate packed with tradition and love from the land got its name from the "paellera," which is the large, classic two-handled pan that is uniquely designed for cooking the dish over an open flame. Although this is a highly argued topic outside and within Spain.
#spanishpaelladay #spaincuisine #onlinecookingclass #livecookingclass #paellacookingclass #valenciapaella #historyofpaella
What it means to be Nuyorican every year in June.
Read More