Reasons Why Recipe Cards Hold an Interesting Food History
Every kitchen may not always start off magical; it is what you put into it that makes it magical.
This magic comes from love and care, the ingredients, the people who help it's creativity flourish, and

the cards that hold family memories and love…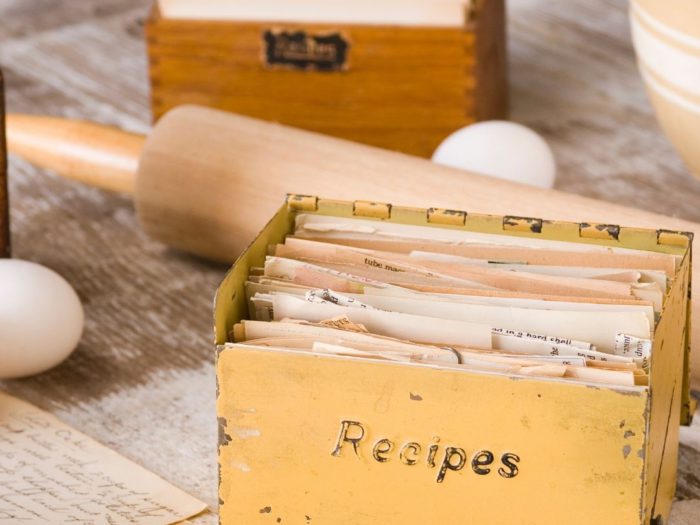 The bonds created!
Many kitchens allow families to get together and bond over the creations that can be made together with their very own hands. From chopping, dicing, rolling, mincing, smelling, and tasting. All of these actions and memories have been documented with love for generations with recipe cards. Family recipe cards hold memories forever and are about your culture, roots, and history.
How did recipe cards start?
When the stock market crashed in 1929 it ushered in a new era of hardship that meant home cooks had to get creative and learn how to stretch their food dollars. For most families, meat was the most expensive, and a hard to get grocery item. Recipe cards and sharing ideas became an important part of learning how to stretch their budget. Hearty, filling one-pot soups and stews that used flavorful (but inexpensive) vegetables and beans as a substitute for meat, were popular. But back in the day, neighbors will share their recipe cards with one another and help improve or add a little something extra to make the dish EXCELENTE! 
Start or add to your collection today with Coqui the Chef's recipe card collection. Free shipping!
One of the same!
If you are someone who would grab your old recipe box before running out the door in a fire, you are not alone. Many of us own historic family recipe cards with Abuelita's writing or stained with salsa and sofrito. They are important links to our past that deserve to be preserved for our future and those beyond us. 
Bringing back the love…
These days, you might turn to websites, blogs, or TV celebs for answers. So, in an effort to bring back people's love for cooking we published Coqui the Chef's limited-edition recipe cards. The first in the series is "Sofrito" just like abuelita used to make (except without all the doodling and food stains). Choose your local farmer's ingredients. Sabroso!
A piece of advice…
If I can leave one piece of advice it would be to save your recipes, before it's too late. Ask your mom, dad, grandparents, anyone you know who would have access to traditional family recipes then take a pen and paper and start writing! If they do not have them written because the recipe is by memory, ask them if it's okay for you to be there when they make it so you can document that recipe into the collection to have forever. It is better to have it than need it. Pulling that recipe card out of the box and holding it gently because it reminds you of those before you is much better than sitting at the kitchen table wishing you would have written it all down to preserve not only the recipe but to keep those special moments alive!
Fill out the form below to start or add to your collection today with Coqui the Chef's recipe card collection.
Free recipe card and Free shipping!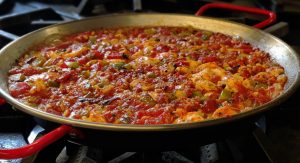 There's nothing like paella and its endless layers of flavor. What starts as a golden rice elevated by the almost mystical saffron and Spain's sweet piquillo peppers becomes an authentic extravaganza of colors, flavors and textures.
Read More