Celebrate National Puerto Rico Month
Why not toast with a glass of Coquito?
November is National Puerto Rican Heritage Month, and it commemorates and acknowledges the contributions of Puerto Ricans in the United States.
Let's toast with a glass of Coquito! Wepa!

It's hard to visit Puerto Rico and not enjoy a glass of Coquito, especially during the holidays. Coquito is one of Puerto Rico's most popular cocktails, along with the Piña Colada, of course, and it shines for being heart-warming delicious. Coquito tastes like home!
There are many recipes for Coquito, so many that international competition exists to discover every year's winning drink for the holidays, but they're all extraordinary — they taste like spending the holidays in the island!
When was this Little Coconut Born?
Coquito is often called the Puerto Rican eggnog, but it's much more than that. Coquito means little coconut, is a Christmas specialty that celebrates two authentic Puerto Rican ingredients, sugar cane rum and coconuts.
The intricate yet comforting drink is creamy and silky and goes back to the 1800s, during the Colonial Caribbean, as Spanish traders helped establish the rum trade. Of course, combined with Puerto Rico's tropical fruit the coconut and festive culture, Coquito was born!
Today, Coquito has an immense significance worldwide, as Puerto Ricans have taken their love for the creamy drink with them to all corners of the earth. Hence Puerto Ricans contribution to history!
What Makes Coquito Special?
Coquito recipes abound; every family in Puerto Rico makes theirs different! What the most successful have in common are coconut milk, coconut cream and evaporated milk. And although some recipes call for egg yolk, they're not at all necessary. Some Coquitos are eggy, and others aren't!
What makes Coquito special is the warm brown spices that elevate them to celebratory heights. Cinnamon, cloves, nutmeg, vanilla, allspice and ginger come together to bless the tasty drink with an authentic Caribbean feel. There's nothing like it!
Learn How to Make Traditional Coquito! Book a Coquito Making Class
If you're looking for a new and exciting way of swooning your guests off their feet during the holidays, learn how to make Puerto Rican Coquito with our masterclass. Enjoy a live online experience with your loved ones and make this classic coconutty drink your own signature drink!
Our Chef Tania has fourteen years of experience as a Culinary Instructor and knows how to infuse the Puerto Rican spirited mood to everyone cooking with her. Book a Coquito class with family and friends and give a tropical flair to your holiday dinner parties!
There's no doubt making holiday drinks is the best way of getting in the right mood for dinner parties and get-together with friends and family! Yes, Coquito is much more than eggnog, this is the heart and soul of Puerto Rico, and you can make it your own holiday tradition!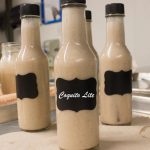 Book a cooking class with Chef Tania and have a fantastic time making Coquito from scratch!
If you like a private class please contact us.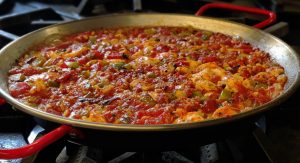 There's nothing like paella and its endless authentic extravaganza of colors, flavors and textures. Cook paella with us!
Read More