This Holiday Season Learn How to Cook Paella
There's nothing like paella and its endless layers of flavor. What starts as a golden rice elevated by the almost mystical saffron and Spain's sweet piquillo peppers becomes an authentic extravaganza of colors, flavors and textures. There's just nothing like it!
Paella is one of Spain's signature dishes, but it's much more than that; it's the ultimate celebratory dish, an authentic specialty that makes the most out of the world's finest spices and the tastiest food in the Iberian country. 
Well, it's time to have a traditional cooking experience filled with aromas, music and wine. Cook authentic Paella with us in the comfort of your home! Here's what you need to know.
The Origin of The Paella
Today, paella might be a wholesome main course reserved for special occasions, but it started as a humble dish. Paella is native to the Mediterranean coastal city of Valencia, where the finest veggies and meat abound. And it's easy to imagine ancient people in the picturesque town coming together every Sunday to cook a large communal dish of rice and assorted goodies!
The history of paella differs between the province, and there are many folk tales of how its name came to be. Some claim Paella originated from the word "Patella" meaning frying pan. Others believe the word "paella" comes from the Arab term "baqiyah," which means leftovers. Another version, a much more romantic one, recalls when Spanish men combined rice and leftovers in a frying pan to cook their wives a lovely meal, "Para Ella" means "for her."
Which folk tale do you like best?
What Goes Into a Paella?
The key ingredient in paella is rice, of course, but this is just the beginning. The rice is fried and livened by the colorful and fragrant saffron and smoked paprika, and it's tossed with veggies, including Spain's famous piquillo peppers. 
Traditionally, rabbit, chicken and veggies come together, making every spoonful of paella unique. It comes without saying; no two paellas are the same. Every Spanish family and every chef has its recipe. What they all have in common is that they're utterly delicious and satisfying!
More important than the ingredients, what makes a paella great is the paella pan, a shallow, thin and round pan designed to cook paella over an open flame. 
Make Food Your Passport! Travel to Spain through food in the comfort of your home. 

Spanish cooking is all about spending time around the table with friends and family for long hours; that's the Spanish way. Using ingredients imported from Spain will help you cook like a local! Cooking paella takes you to a time and place where you hear the rattling guitars and the fast-paced flamenco music in the background! 
Learning to make paella from scratch changes you! The wholesome dish is a great ace to have up your sleeve and an opportunity to treat your friends and family with a crowd-pleasing meal.
Our Chef Tania Lopez, is a talented cook with fourteen years of experience as a Culinary Arts Instructor. She hand-selected traditional paella ingredients you'll get in a cooking box delivered to your home.  After making and enjoying a true paella feast with us, we will end your experience on a sweet note with Spanish holiday almond cookies and a glass of sangria. ¡Olé!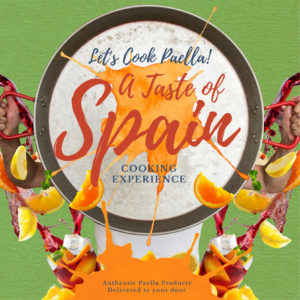 Live the experience and go on a journey to discover Spain's most exciting culinary secrets. Book your cooking class and become a paella expert! Experience the class with authentic Spanish products, and traditional paella pan delivered right to your door. We ship only within the United States.

Holiday Special!
Have a friend or family member loves to cook? Book two experiences and get complimentary Spanish holiday cookies and Coqui the Chef coasters with every paella kit! 🍪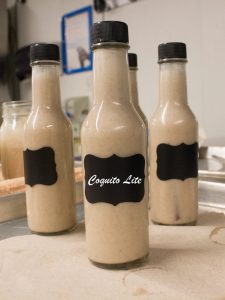 November is National Puerto Rican Heritage Month, and it commemorates and acknowledges the contributions of Puerto Ricans in the United States. Why not toast with a glass of Coquito?
Read More