Are you searching for an unforgettable online cooking class?
Whether you wish to cook with your family and friends to celebrate an important date, join your coworkers in a team-building event, or just to learn a Spanish cuisine, you've come to the right place! 
Our online experiences are great for Food Explorers, whether you are an experienced cook or not. We offer a variety of classes that cover every craving. Most of the products we use on our dishes are available for delivery straight to your door, depending on which package you purchase.
Start exploring Spanish cuisine with us at Coqui the Chef!
Book a Cooking Class or Tasting Experience!
Become a cultured connoisseur in authentic cheese and wine! The Marriage of Wine and Cheese goes beyond just flavor profiles. Cheese and wine making are a journey through time, patience and passion.
📦We ship the wine and cheese!

Date: Saturday, March 12, 2022
Time: 6-7:30 pm EST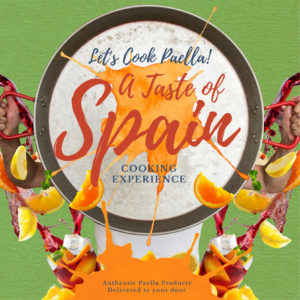 Imagine exploring Spain through food with authentic ingredients to cook a delicious paella! Invite family and friends to help you make a delicious paella dinner, drink sangria, and enjoy a LIVE flamenco performance straight from Spain!

Experience the class with authentic Spanish products, traditional paella pan and Spanish red wine delivered right to your door.

Date: Saturday, February 12, 2022
Time: 6-8pm EST SOLD OUT!

Next class - Celebrate Mother's Day - Saturday, May 7, 2020 6-8pm EST
Click on "Book An Experience" to see more available dates
Imagine taking a virtual trip to La Isla Bonita, Puerto Rico!
we can take you there with a little bit of Puerto Rican history, coquito, and pastelillos!

Coquito and pastelillos (also known as empanadas) are a staple for Puerto Ricans. Coquito is usually made during the holidays much like eggnog. Pastelillos is everyone's favorite gustito (appetizer) all year round. In our online class we will teach you how to make both.

Our cocktail has been acclaimed in the Miami Herald Newspaper and loved by The Sporkful with Dan Pashman Podcast. Listen to the podcast at coquithechef.com/coquitomakingclass/

Date: Friday, February 4, 2022
Time: 6-7 pm EST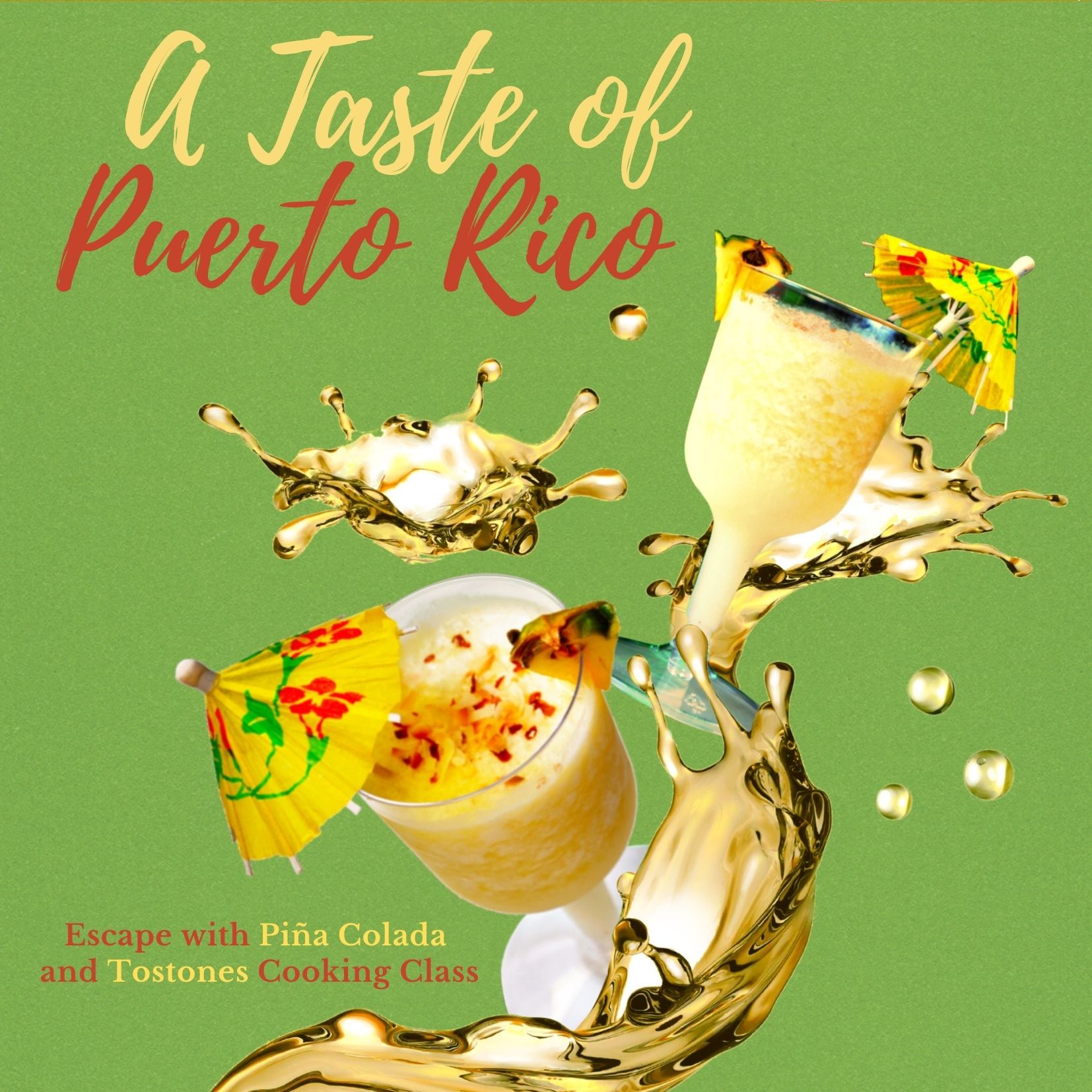 If you like Piña Colada and gettin' caught in the rain this is the experience for you!

In our LIVE class, we will teach you how to make my version of the classic Piña Colada cocktail/mocktail. I will take you on a cocktail journey through the history of Piña Colada and teach you how to make my favorite snack "TOSTONES" (twice fried green plantain slices)

If you don't want to cook, you can buy a bag of tostones chips, and make my easy three ingredient Puerto Rican dip. Then we conclude the class with Q & A, salsa music, and lots of giggles!

Date: Saturday, February 19, 2022
Time: 5-5:45pm EST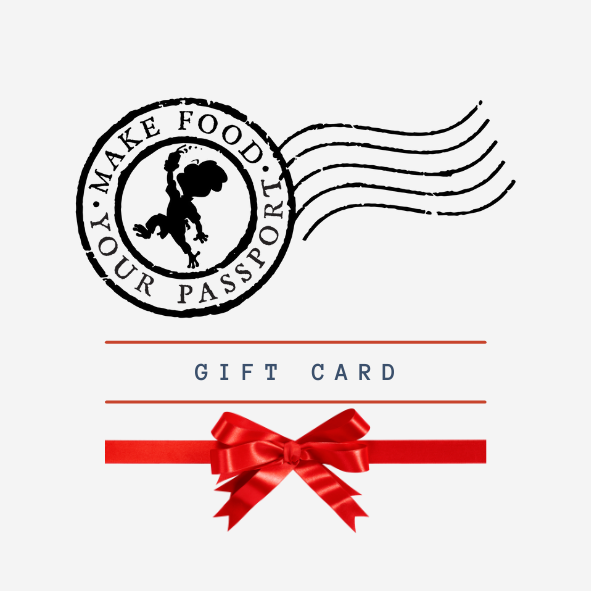 Digital gift cards can ONLY be redeemed on any of our online cooking classes!
We loved making Coquito with Tania! My coworkers loved her presentation on the culture and music of Puerto Rico, and her recipes are AMAZING- this is coming from someone who is also Puerto Rican! 100% recommend this experience to anyone looking to learn something new and make something easy and delicious.
"What a fun experience! It was personable. The chef made everyone feel included and guided at a pace that we could keep up with! The results were fabulous. We thoroughly enjoyed the meal and the laughter! We will do another class anytime! Thank you Chef Tania"
What a fun class! Everything tasted delicious and Tania's tips made it all surprisingly easy to make, too. We will definitely be making tostones and pina coladas again. We highly recommend this class and hope to take other classes with Tania in the future!
"If your palette prefers Spanish cuisine, Dan Pashman, the host of The Sporkful podcast, recommends taking this paella-making class led by chef Tania Lopez. He actually doesn't call it a cooking class, "but more an interactive experience." That's because, in addition to the cooking lesson, you also get "a flamenco concert," according to Pashman, who assures this entertainment does not dilute the lesson's culinary wisdom. "She knows the cuisine inside and out and her passion for the food is contagious," he says of Lopez. Like the Geffen Stayhouse's Indian cooking class, you can pay a lower price of $55 to take the class and receive a list of required ingredients and equipment; or you can pay $120 and get all the ingredients you need — along with a bottle of wine and a paella pan — delivered to your door ahead of the class."
"The Paella Class is the best date night event I have attended virtually or otherwise.  The Chef, the kit, and the entertainment were absolutely amazing!"
"A fun, high energy, entertaining night of culinary learning - coming from a guy whose cooking skills are very limited.  Talk about a confidence booster and delicious dinner! It is great for friends gathering, date night, or team building among colleagues"
"Thank you for creating a memorable experience for my colleagues and me! I became worried when thinking about how we could observe Hispanic Heritage month during the pandemic since we were unable to be together. I am thrilled to have partnered with you and your team. You by far exceeded my expectations and helped to make this an amazing experience. You and your team made everything so convenient and easy for us. You truly created an event that allowed us to celebrate Hispanic culture through education, food, dance and drinks. Even though we were unable to physically be together for this event we all felt so connected."
"My husband and I took a wonderful paella cooking class with Coqui the Chef around the Christmas holiday. The class was an immersive experience, bringing the food, culture and music of Spain right into our kitchen. The class was taught online with the engaging Chef Tania, who walked the class through the steps of making a delicious paella. We received a paella kit from Chef Tania that had everything we needed to get started. During the class, we took musical excursions to Spain and listened to live Spanish guitar. All in all, we had a great time and great food. And the best part, paella has become a regular meal in our home. Thank you, Chef Tania!"
This was an wonderful Airbnb Experience with Tania! She was a fantastic host and share so much of her Puerto Rican culture through food with us during this class. She has great pacing with her teaching and was great to check in with everyone as we prepared the food. The Pastelillos we made were delicious. The holiday cocktails - Coquito - were yummy too. I definitely recommend this online experience to others!!