Caribbean-Style Christmas is Here
How Does the Caribbean and Latin America Celebrate the Holidays?
The holiday season is memorable for all of us, but we all celebrate it differently. For some, it's all about making angel shapes in the snow; for others is just another day at the beach!
What matters most is the people you spend the holidays with. Friends and family come together around the table for some of the most comforting and rewarding meals on the calendar.
So, how do people enjoy Christmas in Latin America and the Caribbean? Let's just say you don't see too many turkeys going around. Here's what you've been missing!
Latin and Caribbean Holiday Drinks
Coquito
Another extraordinary holiday drink is the coquito, of course. The "little coconut" is originally from Puerto Rico, but it has a broad reach. Cream of coconut, evaporated milk and coconut milk give this rich drink its personality, but it's the warm spices that make it so satisfying!
The best part? Add a splash of rum to your coquito and turn your Christmas reunion into a party! I make coquito with a unique family recipe that has ben passed down for generations. Every family has its own recipe for coquito, so try as many of them as you can!
By the way, Puerto Rico has its own version of the classic Christmas carols; they call it Parranda. Consider yourself warned: these carols are livelier and louder; that's the Caribbean way!
Rompope
Latin and Spanish cultures are not all that big on eggnog as we know it, but they do have their own versions, and they're just comforting and utterly satisfying.
Rompope is ubiquitous in Spanish-speaking countries. We're talking about a thick, boozy,  vanilla-scented egg-based drink, not dissimilar to eggnog. Rompope was first made by nuns in monasteries and convents back during the European colonies, and it stuck.
What's for Dinner?
Now, let's talk about just a few Caribbean and Latin Christmas meals with deep traditional roots. Of course, this is just a drop in the bucket — we could write an encyclopedia about all the festive dishes in the Spanish repertoire!
Arroz y Gandules, Pigeon Peas and Rice
Let's start with Arroz y Gandules, pigeon peas and rice; who knew rice could be so exciting? Pigeon peas, rice, achiote, and sofrito come together in a steamy dish that truly steals the spotlight on the Christmas table. More than a side dish, this one's a main event!
Paella
Paella is a beautiful dish all year-round; it's the perfect meal to share, and it's crowd-pleasing! Well, paella is also a fantastic Christmas meal. The rice, the paprika and the saffron, the veggies and the famous piquillo peppers; it all comes together nicely! Meals to share are always the best. Don't you agree?
Tamales (or Guanimes)
Tamales take different shapes and flavors in Mexico, Guatemala, Nicaragua, Cuba, Puerto Rico and many other Latin American countries. They're always delicious, though. Masa or dough dumplings sometimes filled with anything from fruits and veggies to meat. Always tender and steamy, these are authentic edible gifts to unwrap in the holiday season!
Are You Ready for the Holiday Season?
Now tell us about your holiday traditions! And if you want to add a Spanish and Caribbean feel to your Christmas table, take a cooking lesson with us, we specialize in comfort food — especially tasty holiday meals and drinks! Whether it's empanadas, paella or coquito, there's always something special to spice up your holiday menu!
On behalf of all of us at Coqui the Chef, may the holiday season fill your home with joy, your heart with love, and your life with laughter!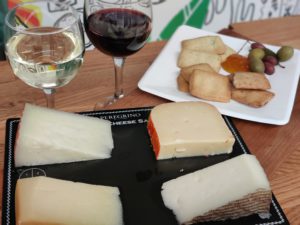 Our new favorite holiday is around the corner. Yes, the National Cheese Lovers Day is a thing, and we celebrate it every January 20. Yes, it's as fun as it sounds.
Read More