7 Great Reasons You Should Give Gift Cards
The Dreadful Holiday Question; What Should I Give Them?
The holidays are almost over but the journey of looking for that perfect gift never ends. Ugh! 😕 We know how you feel that is why we are sharing these 7 reasons why gift cards are better than bow ties, weird looking lamps, socks, ugly sweaters, or smart home devices. 
 You Can Easily Stay on Budget – You decide on the amount and that's it!


 Let Them Choose – You are giving them the flexibility to choose an experience instead of a thing.


Easy to Present – Slip the printed gift card into a beautiful holiday card and add a personal touch with a handwritten note.


Pair the Gift Card with a Small Gift – A paella cooking class or cocktail class could be given with beautiful hand designed sangria glasses, wine, or rum.


 Great to Have on Hand for Surprise Gifts – Nothing is worse than getting a gift from someone and not having a gift for them. But if you keep a gift card or two in your wallet, you'll be ready and not look like the Grinch.


Share the Joy of Cooking – You love to cook and travel, that is why you are reading this email. Why not share that love and joy with others? Let food be their passport to an unforgettable culinary experience.


Feeding a Small Community – When you buy from a small business whether it's a gift card or a thing. You are helping a community of people. Small businesses are big contributors to their community providing jobs, internships, education, and food on their tables. 

We hope you enjoyed reading our list. Please share with others who are struggling to find that perfect gift card.
Happy Holidays y Feliz Año Nuevo from Coqui the Chef talented team!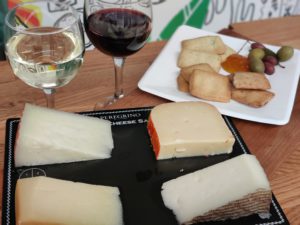 Our new favorite holiday is around the corner. Yes, the National Cheese Lovers Day is a thing, and we celebrate it every January 20. Yes, it's as fun as it sounds.
Read More